Project overview
Melbourne Airport Rail is a transformational public transport project connecting Melbourne Airport to Victoria's regional and metropolitan train network for the first time.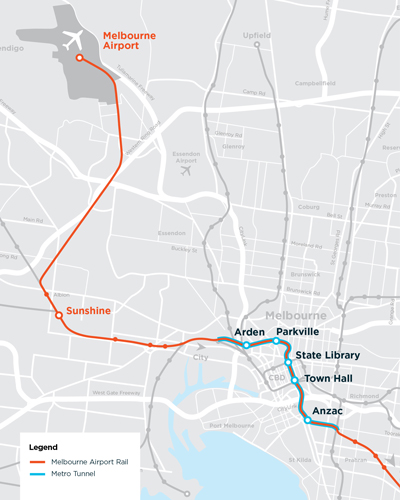 For all passengers, Melbourne Airport Rail will provide:
access to the entire public transport network including trains on the Geelong, Ballarat, Bendigo and Gippsland lines with a single interchange
direct access to Melbourne Airport from 30 stations without the need to change trains, for passengers travelling from the CBD and the booming south-eastern suburbs
a new premium station at Melbourne Airport with 10-minute services
seamless travel to the heart of Melbourne's CBD in around 30 minutes
direct access to key sites including Melbourne University, the Parkville medical precinct and the St Kilda Road business precinct.
The Australian and Victorian governments have committed $5 billion each to deliver Melbourne Airport Rail.
Detailed planning and development work is currently underway, which will inform more detailed cost estimates and refine other parts of the project scope and designs.
Construction will begin in 2022 with a target opening date of 2029 subject to relevant Victorian and Federal planning, environmental and other government approvals.

View the project timeline.
Project route
Trains will run from Melbourne Airport through to Sunshine Station, then into the Metro Tunnel and the heart of the CBD, before continuing on to the Cranbourne and Pakenham lines.
New dedicated tracks will be constructed along the existing Albion-Jacana freight corridor between Sunshine and Airport West. The tracks will divert off the freight corridor crossing the M80 freeway and head towards the airport following Airport Drive, before arriving at a new premium train station at Melbourne Airport.
The Strategic Appraisal (PDF, 749.5 KB) found that the Sunshine route performs better than other route options that were considered.
Compared to the other options, the Sunshine route provides:
superior connections to more areas of Melbourne through its integration with the Metro Tunnel
superior connections to regional Victoria through an upgraded Sunshine interchange
earlier deliverability at a lower cost.
This finding is consistent with the recommendation of the 2012 Public Transport Victoria study.
Project scope
Proposed scope as part of Melbourne Airport Rail includes:
major improvements to Sunshine Station, including a new, accessible second pedestrian concourse with escalators and lifts for better passenger connections between regional, metropolitan and Melbourne Airport trains
new twin tracks rising over Anderson Road through to the start of the Albion-Jacana corridor, elevating the rail line over the Sunbury corridor, Ballarat Road and St Albans Road (less than 2km)
a new forecourt area, extra bike cages and some minor modifications to car parking around Albion Station
twin tracks continuing at ground level along the Albion-Jacana corridor, including a new rail bridge to cross over the Maribyrnong River alongside the existing heritage bridge
a new rail bridge to cross over the Western Ring Road (M80)
changes to existing road bridges, pedestrian and cycling connections and other rail infrastructure upgrades – such as new signalling and power systems – along the length of the route.